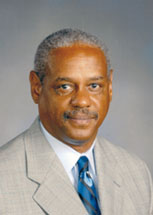 Our Services
Ed-Tech provides:
Project Management
Infrastructure Design/Analysis

Google Apps Implementation

RFP Development

Watchguard Firewall Administration

PowerSchool Administration and
Customization

Technology Asset Acquistion

PARCC Technology Preparation

And More
About Cornelius DuBose
President and Founder
A 1972 graduate of North Park College, Cornelius, began his career as a sixth-grade teacher. He received an MSEd in educational technology from National-Louis University. He has taught technology-related courses for Northwestern University's Center for Talent Development; DePaul University's School of Computer Science, Telecommunications, and Information Systems; and National-Louis University's educational technology program.
His depth and breadth of experience in educational technology was developed as he performed the duties of Director of Technology, responsible for designing and managing education technology programs for school districts for 20 years.  During that time he has designed, implemented, and managed wired and wireless infrastructures,  procured hardware, deployed and managed servers, developed technology integration plans, trained teachers/administrators, and managed staff.
In 2007 Cornelius went on to start his own company, Ed-Tech Solutions, LLC, which specializes in assisting schools in implementing technology. Since its founding Ed-Tech Solutions has assisted clients with a myriad of projects including: implementation of a 1:1 laptop program, network refresh, writing of technology plans, implementation of a VOIP phone system, PowerSchool student information system implementation, and a dark fiber wide area network.